Grain Silo For Sale
Strong leakproofness to meet the needs of pesticides and fumigation
Temperature measuring device installed inside grain silo
Diameter: 3-25m
Maximum height: 28m
Get A Quote
Grain silo, also called grain bin, grain storage silo, is the warehouse for storing different kinds of grains. It can be constructed from a variety of raw materials, such as cement, timber, steel, plastic, etc. Among these different types of grain silos, the spiral steel grain silo is widely used in various grain processing enterprises, short-term storage of grain in ports and wharves as well as household grain storage because of its high strength, light weight, high degree of mechanization, low cost and other outstanding advantages. The spiral steel grain bin can store all kinds of granular or powdery bulk grains, just like rice, corn, wheat, soybean, barley, sorghum, sunflower seeds, palm kernel, buckwheat, millet, bran, peas, beans, rapeseeds, beet seeds, peanut, rye seeds, flour, feed, minor cereals and other crops. It meets the requirements of scientific grain storage, green grain storage and ecological grain storage.

AGICO
is a
steel silo
manufacturer in China, has the excellent German complete set equipment and the specialized technology, offering a wide range of galvanized steel silos for grain storage, cement storage, chemicals storage and so on. The spiral steel grain silo produced by AGICO has the features of good humidity resistance, heat insulation, ventilation, air tightness, fireproof performance and earthquake resistance. In addition, it has the function of preventing insect, rat and finch, and its mechanized operation facilitates the loading and unloading of grain. After decades of silo design and manufacturing experience, AGICO has the ability to offer you complete storage solutions and the service from installation to after service. Here is the size table of AGICO steel silo with different capacities. This size table is attained by storing wheat in the spiral steel grain silo, and it's only for your reference. We support the customization service according to your needs.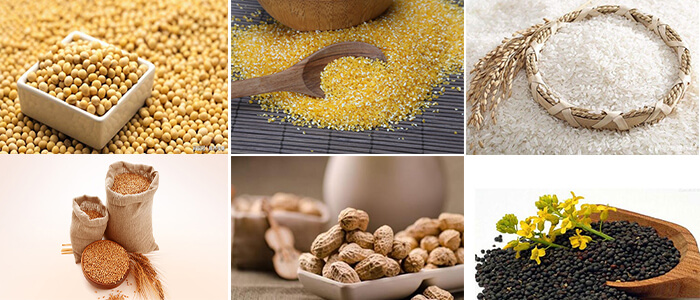 The Prerequisite for Grain Storage
The outside wall of the steel grain silo is thin, so it has the characteristics of fast heat absorption and dissipation. Generally, there is a temperature detection device equipped in the silo. Once the temperature changes, they can be adjusted in time. In addition, some grain processing technologies, such as cleaning, screening, classification and dust removal, as well as mature management methods, like the application of the automatic cooling system in the granary, can realize the safe storage of grain. Several grain storage prerequisites are as follows:
Grain situation monitoring and controlling:
the monitoring and controlling of the situation in grain silo is crucial for grain storage. For example, the operator can timely grasp the safety of grain by the electronic sensor which can detect temperature and humidity in the grain silo, and then automatically or manually control some related devices to achieve the purpose of cooling and dehumidification.
Ventilation: the safe storage of grain is mainly to prevent grain mildew, high temperature and insect attack. Temperature and humidity are the key factors affecting the storage environment. If it is found that the temperature difference in the grain storage bin is too large, we can control the temperature and humidity in the grain bin through ventilation device to prevent the occurrence of grain damage.

Grain Cooling: by using the cooling technology, grain can be kept in a low-temperature state below 15℃ or a quasi-low temperature state below 20 ℃, which greatly slows down the "breathing" of grain, maintain and adjust their moisture content, and ensure their long-term storage and preservation.

Grain Deinsectization: damaged by insects is a common problem in grain storage. However, there are many ways to prevent it. We can inject nitrogen into the steel grain silo by using its high tightness. The nitrogen will enter the grain heap and flow evenly between the grain pore, so as to play an insecticidal role.

From the prerequisites of grain storage we mentioned above, we can see special terms should be met like the storage temperature, humidity, sealing, ventilation, etc. AGICO grain silo just meets all these requirements.

AGICO Grain Storage Silo's Featured Advantages
Good performance and long service life: the overall strength, stability and seismic performance of the AGICO grain storage silo are better than other silos, and all of them are constructed by the special equipment. In addition, AGICO grain silos adopt the material with strong anticorrosive properties, which will prolong its service life.

Good air-tightness and wide application: AGICO grain silo is bended, connected and fixed by professional equipment, so it has superior quality and good air-tightness and can meet the technological requirements of insecticide and fumigation. What's more, it can be widely used in the brewing industry, grain industry, cement industry and other fields according to the characteristic of different materials and process requirements.

Low cost and easy management: the AGICO grain silo is made of thin sheet steel, the weight of it is approximately 1/4 to 1/6 of that of the concrete grain silo with the same volume, so its building saves a lot of money. Besides, the assembly of the AGICO grain silo is very simple and rapid. Its parts can be disassembled and replaced easily. All of the steel grain silos are highly automated, equipped with temperature and humidity detection equipment, material level control device and other equipment, which provides convenience for customer management.

Comprehensive after-sales service: we offer operation training service after the silo is used and have phone service every three months to remind our customers of possible problems in the course of using steel storage silo and collect advice or suggestions in product quality and the related services. We guarantee a timely reaction for arriving at the scene in 36 hours after receiving feedback. AGICO is your relieved choice.
Get In Touch With