Different Types Of Stainless Steel Silo: Welded Silo & Bolted Silo & Spiral Silo
The stainless
steel silo
is widely popular in the world because of its advantages of fast manufacturing, lightweight, and relatively low cost. It can be applied in the agriculture industry, metallurgy industry, building materials industry, petroleum industry, chemical industry, light industry, and other industries. It can not only store granular bulk materials but also powder materials and liquid raw materials, such as wheat, barley, sorghum, corn, rice, soybean, flour, cocoa beans, feed products, cement, gypsum, bauxite, sand, ore, water, oil, vegetable oil, etc.
Stainless steel silos are mainly divided into three types: bolted steel silo, spiral steel silo, and welded steel silo. Each of them has a specific strength and application area.
Bolted Steel Silo
The bolted steel silo is a kind of steel silo that is connected and assembled by high-strength bolts with the electric torque wrench. It is suitable for large-scale industrial production with convenient transportation and low cost. The site installation workload of the bolted silo is small, the technology is simple, the progress is fast, and not affected by the season. Besides, when demolition is needed, reinforced concrete silos need to be demolished by blasting, while bolted steel silos can be easily and quickly removed elsewhere.
Features:
All steel plates are made of high-quality hot galvanized plates, and all parts are standard components with replaceable properties. Users can easily replace damaged parts and extend the service life of silos in the process of use.
The bolted silo can be reconstructed and removed. That is suitable for the users who rent the site.
The height and diameter of bolted silos can be selected from a wide range and the space between silos is less than 80cm. The maximum capacity of bolted silo is up to 15,000 tons. It has absolute economic advantages for large oil plants and wharves.
The diameter of bolted steel silo can be chosen between 2.7~32m.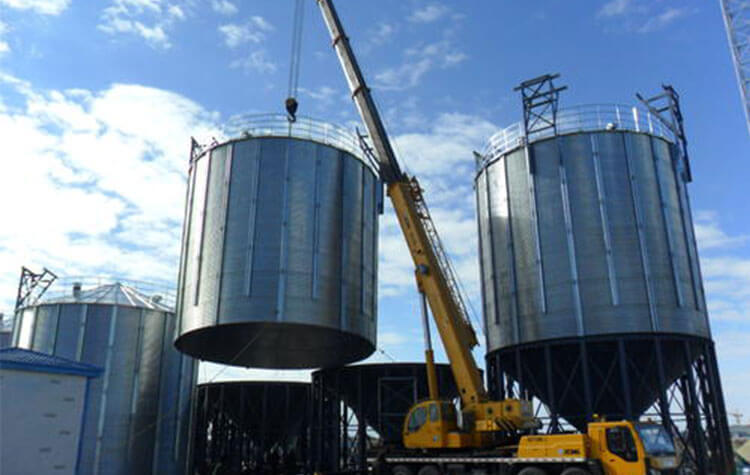 Spiral Steel Silo
The spiral steel silo, also known as Lipper steel silo, is a kind of steel silo which is made by connecting the spiral undercut of silo wall plate by special processing method. It is made of thin steel plate, and its weight is only equivalent to the rebar of reinforced concrete silo with the same capacity, which greatly reduces the cost.
Features:
Good sealing performance. The spiral steel silo adopts a double-layer spiral edge. The edge is embedded with a sealing strip, so the silo has good air tightness and is conducive to the storage of materials.
High strength. The outer wall of the spiral steel silo is hung with strengthening rib bent to 5 times the wall thickness, which greatly enhances the strength of the silo and prolongs the service life.
Wide application. In addition to store grain and other granular bulk materials, the spiral silo is also available to storage liquid material, such as water, oil, etc.
The spiral steel silo adopts on-site construction with a high degree of mechanization. It does not need scaffolding and other ancillary facilities so the building speed is fast and the cycle is short. The construction of a 500 cubic meter silo can be completed by five people in one day, which saves labor and costs.
Nice appearance and small area occupation. The height and diameter of spiral steel silo can be selected in a wide range. The minimum distance between two silos can reach 500mm.
The optimal plate ratio is selected for the spiral silo so that its service life is up to 20-25 years.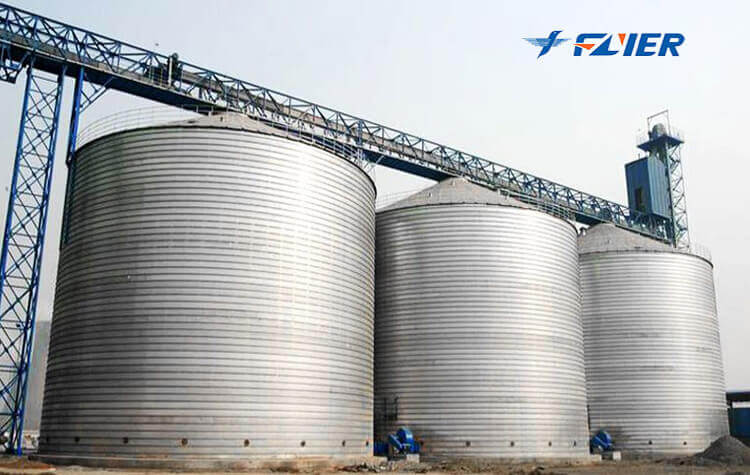 Welded Steel Silo
The welded steel silo is manufactured by welding steel plates. It has a long service life, large storage capacity, and good airtightness. In our daily life, it is mainly used to store powder, particles, and noncorrosive liquid. Because of the thick silo wall, the strength of the whole silo is large. Therefore, the welded steel silo can be built higher and the service life is longer. In the coastal ports, the salt in the air has a certain degree of corrosion to the steel plate, so the thick welded steel silo is the most common choice of customers.
Features:
The overall performance of the welded steel silo is good: environment friendly, energy saving, land saving, and long life. It can be used for 50 years.
The welded steel silo has advanced technology, high emptying rate, good homogenization effect, and convenient maintenance for equipment inside the silo.
It has a large storage capacity almost with no storage restrictions. A single silo can store 5,000 to 100,000 tons, so the cost is low.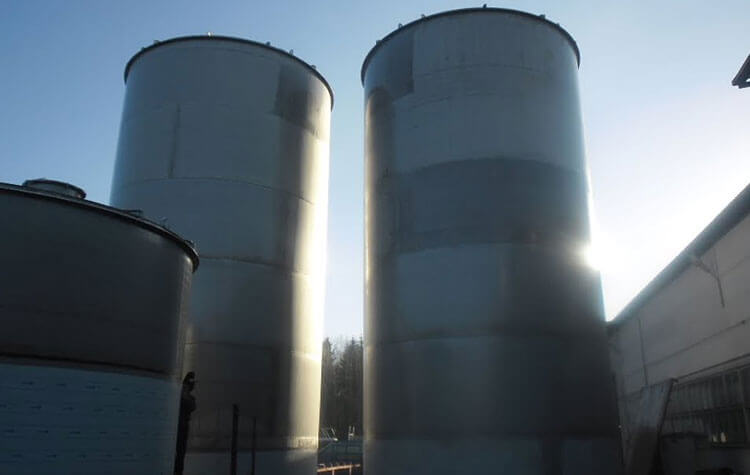 Why Choose Flyer Steel Silo?
Flyer is a professional steel silo manufacturer in China. We have rich silo manufacturing experience at home and abroad. The steel silo produced by Flyer has advanced technology, flexible layout, and long service life. They can store various types of materials. Besides, we offer the silo customization service to meet customers' requirements. If you are interested, please feel free to contact us.
Get In Touch With