Steel Silo: A Good Way to Cope with Environmental Pollution
The problem of environmental pollution, especially air pollution problem, has become a worldwide problem. People from different countries and regions have realized its serious harm to people's living conditions and global environment, and achieve the periodic consensus of energy-saving & emission reduction and the environment protection. As the world's fastest growing and largest developing country, the problem of environmental pollution of China is becoming increasingly more serious. The environmental problem has become people's focusing information on talking topic of daily life. The blue sky dream has gradually become a nightmare in northern cities of China. Therefore, at present, China government is gradually increasing the intensity of pollution treatment.
Steel silo, as a kind of excellent storage system, is widely used everywhere. The development of steel silo industry has been in blossom. Steel silo is popularly applied in agriculture, grain, metallurgy, building materials, petroleum, chemical industry, light industry and other industries. Specifically, it can be used for the storage of grain bulk materials, powder and liquid materials, such as: wheat, barley, sorghum corn, soybean, rice, edible oil, seed, flour, starch, coffee, cocoa, feed products, fly ash, cement, gypsum, sand, iron ore, bauxite, caustic soda, water, fuel, and plant oil. The steel silo can play the enormous positive effects undoubtedly for the industrial enterprises marching towards the direction of low carbon, energy saving and environmental protection. Because of the need for environmental pollution control, it will inevitably be much applied within people's expectation.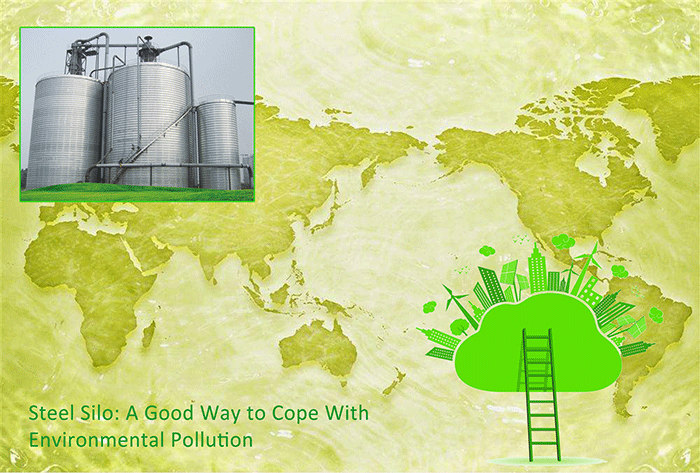 Next, we will take fly ash steel silo for example to introduce you to master significance of steel silo to environmental protection.
Significance of steel silo to environmental protection
In China, for a long time, people have adopted the method of arbitrary stacking to deal with fly ash in any way, which has become one of the major pollution sources in North and Central China.
The harm of arbitrary stacking of fly ash includes:
Because fly ash contains a lot of heavy metals and radioactive elements, arbitrary stacking is prone to cause pollution to groundwater, which will seriously affect the surrounding residents' daily life and health and even bring the disaster to their children.
According to the eighth article of Administrative Measures for Comprehensive Utilization of Fly Ash of China, for new construction, reconstruction or extension of power plant, the chapter and section in the project proposal shall include the stipulation of comprehensive utilization of fly ash; in the feasible study report and the preliminary design, The wet & dry separation, the coarse & fine separation and the ash & slag separation shall be carried out in accordance with the separation and collection principle that is conducive to its use; the design of grinding and conveying system of fly ash shall be contained of the specific implementation plan of comprehensive utilization of fly ash. If the above stipulations cannot be met, the relevant departments shall be prohibited to award the project approval. This shall be implemented keeping the same pace with main project design, construction, and use. Its investment shall be counted in the total project budget. The constructor who cannot carry out the above regulations shall not be approved by the relevant departments and cannot start the project. If the main project cannot be completed and delivered in the meanwhile time as the above regulations, the relevant department shall not approve the main project to put into use. In principle, new power plant shall not build permanent ash field. For new power plant the disposal and utilization of fly ash must be carefully considered.
According to the above, the closed storage of fly ash has become the way many enterprises must adopt. Using this large steel for fly ash storage has become the best choice major power enterprises, fly ash processing enterprises and dealers must determine.
Advantages of steel silo to environmental protection
As a large steel silo manufacturing enterprise, in the aspects of environmental protection and energy saving, FLYER Company is among the leading places. For fly ash storage, how to make effective treatment and utilization of fly ash? We have made in-depth research and analysis and optimized and improved the technologies relating to the problems in two major fields of environmental protection and energy saving. The new type fly ash steel silo has been widely constructed and used in the building materials industry.
During transportation and storage, fly ash shall not be mixed with debris and affected by dampness and environmental pollution powder. At this point, a large fly ash silo has professionally and completely solved ecological problem of comprehensive utilization of fly ash. This promotes national development and saved resources and energy, so the price of fly ash is relatively lower and reaches high sales rate and high security and environmental storage and utilization. Compared with traditional methods of stacking in the open air or cement warehouse, FLYER steel silo of fly ash has the following technical and economic advantages: land saving, environmental protection, large volume of storage; quality reliability and the utilization rate improvement; multi-point and multi-channel unloading rate, larger amount of unloading and high stability, flexible layout, fast loading, short distance, high safety, short construction period, long service life, etc.
Specifically in terms of environmental protection, it is reflected in:
Small energy consumption. Steel silo adopts the design concepts of gas fluidization and gas homogenization, conveying integration of gas flow and mass flow, which can save a large amount of gas. Due to the cement storage period, increasing capacity, steel silo adopts the medium pressure air source and Roots blower to unload and lower pressure. These can save much energy.
Low carbon. The roof of steel silo is designed of bearing dome. A pulse vibrating dust collector is set on the roof set, helping collect powder ash of main material storage. So the dust emission concentration can reached below 30mg/m3.
Land saving. Steel silo can store cement, clinker, slag, powder, fly ash and so on, which not only reduces investment and eliminates environmental pollution, but also saves a lot of construction land.
Environmental effects. Steel silo can fully meet the requirements of clean emissions. This function can satisfy the requirements of Green Strategy. If the production process adopts the large steel silo system, the storage and transportation links can achieve complete cleaning operation.
Get In Touch With